Early Parenting Course Bundle (pay what you can)
00151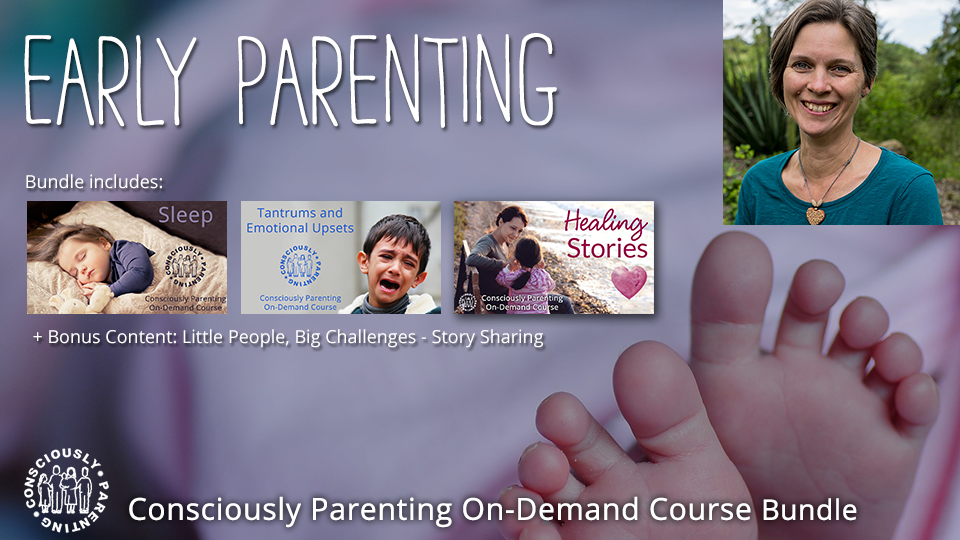 Pay what you can...
Please pay as much as you can afford to support the work we're doing here at The Consciously Parenting Project. We strive to make our information affordable for all families. If you can afford more, you're helping to support a family who might not otherwise be able to have the support, so thank you for paying more when you can.
Together we are stronger.
Together we make a difference.
Together we make the world a better place.
"I want to understand my little one's communications in a deeper way. I hear that there's a story I'm being shown and I'd love to dig in to the mystery and connect in a deeper way. Oh, and sleep. More sleep would be great. Can we talk more about sleep? And tantrums and emotional upsets, too? Not just for my kid..."
In our early parenting bundle, we tackle some of the trickiest challenges for parents with young children:
Sleep (over 4 hours of content)- We explore this topic for the kiddos and what's normal and not normal, gentle solutions for sleep when it isn't working, and provide a simple, do-able strategy for helping you, the parent, get more rest in real life (from a parent who's been there).
Tantrums and Emotional Upsets (one hour in short segments, matching the available time of a parent with a toddler)- One moment, they seem SO together and smart! And the next minute they're flipping out because their toast is the wrong shape. This course helps you to understand what's happening and how you can respond to your child in a way that actually helps tantrums happen less often, and when they do, lasting much less time. It's about the skill of regulation and your role in helping that to happen in daily life with your child, not just getting it to stop in this moment. It's in toddler-sized videos that can match the attention span of a sleep-deprived parent.
Healing Stories (over 4 hours of content) and Story Sharing (one hour)- As parents, we know our kids better than anyone else. When we have tools to help us sharpen our "Spidey" senses, we can get to know our children in a whole new way. We are including our favorite tools to help you begin to understand your child's experiences, and make space for yours so you can find your own answers in our Healing Stories series.
And we help you to go even deeper with "Story Sharing" with Ray Castellino and Mary Jackson of aboutconnections.org, as an exclusive bonus.
Take a peek at what you get:
Early Parenting Course Pay-What-You-Can