Navigating the Current - Parenting Conference from 2010 (10 audios)
00134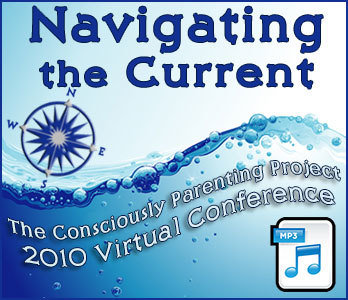 This series is available on its own, or as part of our Gold and Silver Memberships in the Consciously Parenting Learning Center. Click here for more info.
---
In 2010, we held a Virtual Parenting Conference called Navigating the Current. The recordings of the interviews remain some of our most popular to this day.
We are delighted to bring you hours of audio about healing, play and community, right in your own home! Our Virtual Parenting Conference has been designed with the busiest of busy families in mind. There is truly something for everyone.
---
What Parents are Saying:
"Thank you so much for the opportunity to gather knowledge from your virtual parenting conference. I love this idea!"
"The session I found the most helpful was the coaching session on Emotional Literacy with Carmine Leo. I listened to the class first, then the coaching session. I could really relate to the mother's story and learned some outstanding tools for coping with similar behaviors in our family. I really enjoyed the real-world example and the in-depth problem solving process."
"Joan Almon's session about play was outstanding also. It was helpful how she broke down suggestions for balance in the family."
"I really enjoyed the session with Lisa Reagan (particularly how you explained your stoplight - you really have something there!)"
"I was fascinated by the evidence mentioned during Finding Your Flock about the presence of a mother-newborn pair in schools squelching bullying. What a concept! I wasn't aware oxytocin had an affect on others in the room. I need a nice parenting-bolster like this on a regular basis. Thank you!"
---
When the Shift Hits the Fan: Empowered Parenting in the Paradigm Shift
with Lisa Reagan and Rebecca Thompson
When the Shift Hits the Fan is Lisa Reagan's personal story of working with hundreds of families through a nonprofit organization for over a decade to answer the question, "Why is finding resources and support for making wellness choices for our families such a challenge in our culture?"
When the Shift Hits the Fan points out the fact that every academic study on American adults shows they are less happy as individuals when they become parents. Why is this and how can this change?
In this discussion between Lisa Reagan and Rebecca Thompson, YOU will learn how:
A parent's commitment to discovering the answer to this question can be a hero's journey to the mountaintop where it is possible to see the "big picture", or the current global shift from an unsustainable world to a sustainable world.
How, from this "big picture place" which has been explored and explained by organizations like the Institute for Noetic Science, a parent will understand the shift to be the world waking up and the importance of our individual actions in this shift.
And most importantly, upon returning from the hero's journey with the treasured grasp of the "big picture", parents wake up to the wisdom that they can create the world they want to live in every day, in their own homes, in the relationships with their partner and children.
Tool: Brain Stoplight As a practicing holistic family consultant, Thompson shows how we apply our hero's journey treasure of awareness to our day to day interactions, and how, amazingly, we are able to navigate a shift in our personal paradigms with practical techniques that shift us out of the misery of the old paradigm and to a place of empowered and joyful families, and the world to a more peaceful planet!
Lisa Reagan is associate editor for Pathways to Family Wellness magazine, parent representative on the board of directors for the Holistic Pediatric Association, and cofounder and past president of Families for Conscious Living. She is a certified Reiki Master Teacher and lives with her family on their farm in Toano, Virginia.
---
Yes! Let's Play!
with Howard Moody
Listen as Rebecca and Howard discuss: How to create a safe environment for play in your home Why play is so important How to move through our own blocks around play, especially if we weren't played with in this way There are also video clips to watch with some examples that are discussed in the audio.
Howard Moody has been teaching and facilitating play for 20 years. His playshops are designed to be rapid interventions that unlock any organization's energy and intelligence. He's proven that play can change group energy without the need for training or "work" of any kind. His website is www.howardmoody.com
---
NVC Interview with Kelly Bryson
with Stephanie Bachmann Mattei
Join Stephanie Bachman Mattai as she interviews Kelly Bryson about his experiences in Non-Violent Communication. Learn the difference between cooperation and obedience, and what is wrong with the domination system that's in place in our culture. Explore the importance of creative meditation and not giving in. How can we be an enlightened presence in our children's lives and how do we get beyond a triggering episode? All this and more is covered in this comprehensive interview!
Kelly Bryson MA, MFT is author of the best selling book Don't Be Nice, Be Real - Balancing Passion for Self with Compassion for Others. Kelly is humorist, singer, & licensed therapist in private practice. He keynotes conventions (National Montessori, Salinas Peace Summit), is an inspirational speaker (presented at the Association for Global New Thought conference), has been a CNVC certified trainer for more than 20 years, and has trained thousands in the U.S., Europe and the Middle East. His website: http://languageofcompassion.com/
---
Emotional Literacy
with Carmine Leo, CEC, PCC
What is Emotional Literacy? 5 Premises & 4 Elements The Lexicon of Feeling The Cycle of Needs Q & A - The New Application Followup Call with a Mom:
Continue the journey into Emotional Intelligence with this session with a mom of two little girls who has a hard time relating to one of them. She's said that this one session has taken her in a whole new direction with her daughter. Listen in as she has some groundbreaking discoveries and learns how to apply Carmine's modality to her family.
Carmine Leo is the President and Founder of Carmine Leo & Associates, Inc., an organization committed to providing professional coaches, organizations, teams and individuals with a unique and proven methodology to develop emotional literacy and authentic being through the application of emotional intelligence coaching and training.
---
"I could not just pick one or two favorites. I listened all day today, every call some." - Valerie P.
---
Kids, Communication, and What NOT to Say
with Sarah MacLaughlin, LSW
Do you know a toddler who refuses to budge? Has a preschooler ever called you stupid? Our natural reaction to these kinds of situations is often annoyance, and words that just don't work. Changing your approach, words, and even tone can have lasting effect not only on your relationship with a child but also on that child's behavior.
Learn to shift the way you communicate with young children. Communication isn't just what we say. Be effective in sending your message and know how to make the most of modeling.
"No," "Don't," and "Stop!" We often tell children what not to do because we want to keep them safe. Increase mindfulness around this and other communication pitfalls. Remember that we grow what we measure--and focus on what you do want.
Why thinking, feeling, and communicating don't all happen at the same time. Help your child think better by guiding them through emotionally difficult times. Use current brain research to increase your understanding and patience!
Sarah MacLaughlin has worked with children and families for over twenty years. With a background in education, she has previously been both a teacher and nanny. Sarah is currently a social worker at Youth Alternatives Ingraham in South Portland, Maine and works as a foster family coordinator and parenting and family educator. She is author of the book What Not to Say: Tools for Talking with Young Children and writes the Parenting Toolbox column for Parent & Family. Sarah considers it her life's work to to promote happy, well adjusted people in the future by increasing awareness of how children are spoken to today. She is mom to a young son who gives her plenty of opportunities to take her own advice about What Not to Say.
---
Keeping It Positive
with Denise Schnell
The Law of Attraction: How what you think, what you believe becomes your reality Gratitude Journal: Creating a Positive Journal filled with LOVE Releasing the negative patterns in our life and infusing positive energy using One Brain Techniques
Denise Schnell and her husband of 21 years have 3 daughters, 16, 13, & 8. She has a B.S. degree in Elementary Education and has been a One Brain Consultant-Facilitator-Trainer for 9 years. Denise facilitates individual and small group sessions, teaches classes, and is available for speaking engagements through her business, New Choices with One Brain Integration. She can be reached at newchoices@insightbb.com
---
"I am thankful for the snow because it has caused me to slow down and tune into your conference! The recording that I chose to listen to this morning was Writing Down Your Soul. I can't wait to buy the book! I have started journals in the past and my critical self always stops the process. Thanks so much for all that you do!" - Julie W.
---
The Importance of Play in Early Childhood
with Joan Almon
Struggling to find balance in your family life? Have you wondered what was so important about play? Wondered more about how to create more of it in your family?
Don't miss this wonderful conversation with Rebecca Thompson and Joan Almon! We all know that we need more balance in our lives, but how do we do it in a REAL family? How do we know when our kids are out of balance and we need to help them simplify their lives. Play is important for children (and adults of all ages), so catch this session even if you don't have toddlers anymore. Great tips and hints for families with children of all ages.
Joan Almon is director of the Alliance for Childhood, a broad-based advocacy group that brings together educators, health professionals and others to work on common concerns, such as the need to restore creative play and other healthy essentials to childhood. She was formerly a Waldorf early childhood educator for over thirty years and served as founding Chair of the Waldorf Early Childhood Association of North America. She has also served on the Council of the Anthroposophical Society in America and was a General Secretary of the U.S. Society.
---
All Is Well. Just Keep Growing! Cultivating Authentic Family Life
with Carrie Contey, PhD
Understanding that there's no "right" way to parent. There's just the way that feels right to you and your family.
Discovering ways to cultivate your inner knowing and tools for helping your children stay connected to their own inner knowing.
Learning how to tune into yourself and your children in ways that will help you navigate family life and foster life long connections.
Carrie Contey, PhD is a nationally recognized early parenting coach, consultant, speaker, educator and author who has appeared on The Today Show, CBS Radio, National Public Radio's On Point with Tom Ashbrook and in publications including Time Magazine, The Boston Globe, The Star-Ledger, among others. Her passion is providing parents with the support, information and tools to create conscious, connected and balanced lives in all stages of early parenting from before conception through childhood.
She earned her Ph.D. in clinical psychology with a specialty in prenatal and perinatal psychology, as well as an M.A. in prenatal and perinatal psychology from Santa Barbara Graduate Institute. Contey also holds M.Ed. in health education and health promotion from the University of Texas at Austin and a B.A. in psychology from Hamilton College. Carrie served on the board of directors of the Association of Prenatal and Perinatal Psychology and Health (APPPAH) from 2004-2009. She is the co-author of CALMS A Guide To Soothing Your Baby, and the soon to be released What Babies Want: Calming and Communicating with Your Baby. She is also the co-founder of Slow Family Living. Carrie lives, works and plays (literally, she's a drummer in a rock band!) in Austin TX. You can learn more about Carrie at www.earlyparenting.com and www.slowfamilyliving.com
---
Matrix Birth Reimprinting - Your new beginning starts here...
with Sharon King
Reconnect adults and children with their families and to have a more positive belief about themselves and the world
Understanding of the mother / child bonding process to heal separation and abandonment issues and aids people to generally feeling safer in the world Stories of releasing the traumatic memories of birth and recreating the ideal birth you always wanted
Sharon founded Magical New Beginnings in 2009, which is an organization to help adults and children of all ages (including babies) heal and transform trauma and negative beliefs that has occurred from before conception, time in the womb, birth and through to the early years of life.
Our birth and giving birth can be one of the most traumatic times of our lives. Using EFT, Matrix Reimprinting we can go back and release any stored cellular memory of these traumatic times. Many of our limiting beliefs and negative emotions are created during our time in the womb, at the time of our birth and our early childhood. Focusing on this crucial time in our lives we can release the traumatic memories and negative beliefs, create new and empowering memories and beliefs with more positive emotions.
This incredibly powerful technique is for anybody who is pregnant or wants to get pregnant, who feels drawn to working with issues around their own birth or the birth of their child.
Sharon is an international trainer of Matrix Reimprinting, Matrix Birth Reimprinting and is soon to be qualified in the Awesomism Certification Process which enables her to work with families of kids which have been given the label of being Autistic. Learn more about the magical works Sharon does at www.magicalnewbeginnings.com
---
Finding Your Flock - Creating the Context for Oxytocin to Do What it Does
with Leah Deragon and Emily Murray
Understand the power of the perinatal phase, a phase of rapid development for the entire family, to have a lasting impact on the family's trajectory. Understand how stress and isolation during critical periods of development effect the hormonal composition of the family unit
Become familiar with the ingredients for the "oxytocin enducing" conditions that forge bonds between parents and the positive outcomes of facilitated Flock forming Leah & Emily began as doulas and childbirth educators and saw that new families needed more in order to thrive during the important perinatal beginnings of family life. 6 years ago they co-founded Birth Roots, a nonprofit perinatal resource center located in Portland, ME . Today the center is a model of the non-clinical care and support of young families that is so essential to the long-term health of parents & children.