Live Class: Tantrums and Emotional Upsets, Fall 2017
00143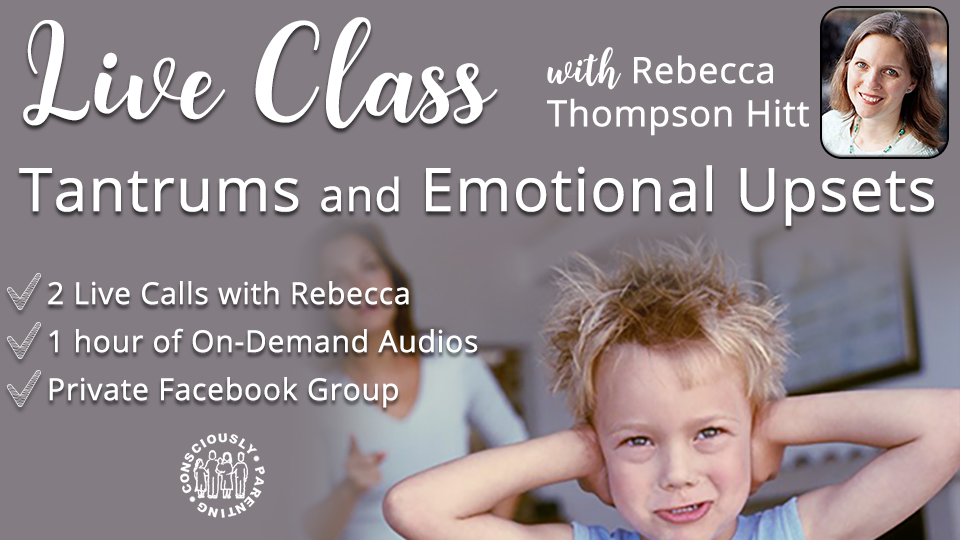 This is a LIVE class that includes the On-Demand Course, 2 live phone/video calls, and a private Facebook group for support.
Gold and Silver Learning Center Members: $27
Non-Member Price: $47
For information on Learning Center Membership, click here.
Gold and Silver Members, use your coupon code during checkout for $20 off. (Click here if you don't have it)
---
Join a group of parents who want to learn how to support themselves and their families through tantrums and emotional upsets in our LIVE class. This live class has an on-demand component, so you can access the content 24/7. The on-demand course contains short (approximately 3 minute) videos and is about one hour total.
We all have those situations when our child is melting down (and maybe we are, too!) and we don't know what to do. Do we explain? Do we send them away to "think about" what they've done? How can we teach them what is appropriate when they don't seem to be hearing a thing we're saying?
This live class is designed to give you the tools you need in daily life to understand what's happening with your child and learn what to do in the moment of upset that will help decrease those difficult moments and increase peace and connection. You'll learn how the Brain Stoplight tool applies to tantrums and emotional upsets so you understand what's happening in the brain, as well as what to do in the moment with your child using handy, easy to remember colors. This transformed my relationship with emotion and my children. I know it will be helpful for you and your family, too.
---
Frequently Asked Questions
When does this live class start?
Wednesday, October 4, 2017
Location?
Anywhere. It's online, with live calls through Zoom Meeting and with online content you can access 24/7 from anywhere with an internet connection. We'll also have a private Facebook group for extra support and connection.
Who is this for?
Anyone who wants to understand emotional upsets in children and in themselves and what to do about them in practical ways that apply in real life. Parents with children of any age. Professionals interested in a new way of looking at supporting emotional health in families and in children.
What do I get beyond the on-demand course?
We'll have 2 live calls where you can either send in your questions ahead of time, or join us live for our conversation. Calls will be recorded and added to your class content. We'll also have a private Facebook group for conversations where you can meet other parents and ask your questions.
Will this class happen again?
The on-demand course is always available, but I will only offer the LIVE class once per year.
How long does the class last?
Class will start on Wednesday, October 4th and ends Wednesday, October 25th. That's enough time to begin to apply the concepts and start creating new neural pathways. It's also enough time for the patterns that are happening in your family to be tested at least a few times with a layer of support for you.
How much does it cost?
$47, unless you're a Gold or Silver Member, and then it's $27. The on-demand class alone is $17 for access to the content. For an additional $30, you'll have direct access to Rebecca to support your family's journey. If you have a financial need and need the support, please let us know. We will offer scholarships.
What if I'm the one with the tantrums and emotional upsets?
Please join us. You're not alone.
When are the discussion calls and how long do they last?
Call times will be decided as a group and we'll try to make them accessible to as many people as possible who would like to be on live. Each call will last about 60 minutes (120 minutes of support).