Book III Audiobook MP3 Download: Nurturing Connection
00125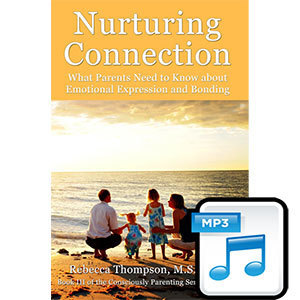 Nurturing Connection: What Parents Need to Know about Emotional Expression and Bonding is the THIRD book in the Consciously Parenting Series by Rebecca Thompson, MS, MFT.
Excerpt from Nurturing Connection: "Nurturing our relationship with our children is the heart and soul of consciously parenting. Nurturing relationships, once they are established, is really an art. It is about remembering that our children's need for connection is a primary factor in most of their behavior. It is about recognizing that, in every parenting situation, we have choices about how we respond to our children and their behaviors. It is about seeing every parenting situation as an opportunity to create connection or disconnection. It is about looking at our everyday parenting situations and beginning to see how we can choose connection. It is also about being able to admit when something didn't go as planned, to forgive ourselves for not always being the parents we hope to be, and to forgive our children for not always being the children we hope they'd be."
"You know how you wish you had been handed a parenting handbook when you had your children? Well here it is." Charan Surdhar, Epigeneticist, mum to one son, UK
Charan continues: "It comes from the heart, there's no telling you what to do, but how to listen with your heart, act from your heart, and how this creates a tender, and loving connection with you child, no matter what age, so it's never too late. The health of you and your child starts from the heart, and is what leads to good health and positive gene expression. Rebecca has a way of sharing her heart through her words for all parents in such a way that she's not instructing but holding the space of the heart to allow parents to tune into their own heart space, and that is the doorway into the land of conscious parenting, ready to play?"
"Fill a time machine with Rebecca Thompson's Nurturing Connection and I will travel back to my clients' childhoods and put myself out of business." Christy Farr, Intuitive Coach, Seeds and Weeds Coaching
Christy continues: People hire me to help them heal unwellness in their lives. Be it professional, emotional, physical, financial, relational, or spiritual, we almost always discover counterproductive patterns anchored in childhood. Plain and simple, disconnected kids don't feel secure. It changes the way their brains work and compromises what they believe about themselves and what's possible for them in the world. In lieu of connection, they create coping mechanisms to survive days and nights filled with uncertainty and fear. Thompson's first book, Consciously Parenting, taught us why connected kids grow into secure, confident, healthy, empowered adults.
The second one, Creating Connection, showed us how to begin to form these tender bonds and gives us the tools for the first few years. Nurturing Connection is what's next. It's about waking up every day and living our lives in a way that allows our children to feel secure. Thompson helps us understand how our own childhoods affect our connection to our children, and encourages us to address and release the obstacles that inevitably pop up on our parenting path. Yes, people like me will be around in twenty years to help the next generation of children heal from their childhoods. But wouldn't it be amazing they didn't need us? Nurturing Connection will allow us to cultivate that vision.
"Filled with profound insights, kindness and honesty, this book brings together a remarkable range of topics and has some incredibly useful tools." Rachel Schofield, Little Ripples (parenting support project) and Mum to 2 boys, Australia
Rachel continues: "I particularly love the image of playing at the fork in the road, I've found that picture popping up in my head at challenging moments, and it's helped me chose the path of connection rather than disconnection many times. I found each chapter gave me plenty of food for thought: I've been reflecting on my parenting practices, and questioning my current understanding. I think the book will be very helpful to any parent exploring how to nurture close connected relationships with their kids. It's a pleasure to read."